8-daagse Zonvakantie naar Madeira bij Four Views Monumental Lido
Four Views Monumental Lido – Funchal – Madeira
Het hotel heeft een uitstekende ligging. In de directe omgeving bevinden zich veel bars, cafes, restaurants en winkelcentra. Ook in het hotel zelf is er iedere avond vermaak in de bar. Voor een bezoek aan het oude centrum wandel je een half uurtje of pak je de bus. Je slaapt in fijne hotelkamers of appartementen. Deze laatste is uitgerust met een complete kitchenette zodat je zelfs op vakantie je lievelingsgerecht kunt bereiden!
(Update Februari 2023)
Aantal dagen: 8
Prijs: p.p. gebaseerd op 2 personen
Plaats: Funchal
Regio: Madeira
Land: Portugal
Soort: Zonvakantie
Vervoer: Vliegtuig
Verblijf in: hotel & appartement
Zwembad: Ja
Afstand tot centrum: 1001-2000 meter
Afstand tot de zee:
Kind vriendelijk: Ja
De zee lonkt op 300 meter, Stijlvol en strak, In een levendige wijk, Blijf in shape in de fitness, Alle stress verdwijnt in de sauna, Accommodatie met eco-label (fair travel), Erkend met eco-label & inclusief transfers.
Aantal sterren: 4
Klant beoordelingen: 8.5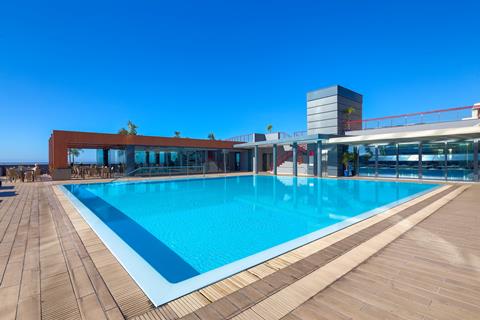 Klik hier om deze aanbieding van Four Views Monumental Lido te bekijken en boeken
8-daagse Zonvakantie naar Madeira bij Four Views Monumental Lido

TUI is een van de grootste vakantiemerken van Nederland met een enorm uitgebreid assortiment van voordelige vakanties. Ook vakanties naar Portugal. Vakantie is de mooiste tijd van het jaar. Wat is leuker dan onbekommerd genieten van andere culturen, een bezoek aan een boeiende stad of te relaxen op een prachtig strand met de zon op je huid? Kortom, te genieten van de dingen die het leven zo prettig maken. TUI doet er alles aan om reizigers een onvergetelijke vakantie te bezorgen. Een mooi land, Portugal. En wil je met eigen vervoer reizen of ga je liever vliegen naar Portugal Bij TUI boek je een goedkope vakantie vol zon.
Bekijk hier alle vakanties van TUI.nl of alle vakanties naar Funchal – Madeira
Bron: Tui.nl
Gaat u op Vakantie? Vergeet dan niet uw Reis Verzekering en deze Checklist meenemen in je koffer. U kunt hier ook uw Vlieg Tickets boeken en een Transfer of Auto Huur regelen.
Bekijk hier de andere Vakantie Landen in Europa.