4-daagse Stedentrip naar Costa de Lisboa bij HF Fenix Lisboa
HF Fenix Lisboa – Lissabon – Costa de Lisboa
Met de unieke locatie aan het indrukwekkende plein Marques de Pombal is dit hotel een absolute aanrader. 's Ochtends start je de dag met een goede kop koffie en en vers ontbijt. De kamers zijn van alle gemakken voorzien. Even uitrusten kan in de tuin welke grenst aan zusterhotel HF Fenix garden. Ben je op zoek naar een restaurant met heerlijke typische Portugese gerechten? Dan is het hotelrestaurant Espaco Jardim een tip om heen te gaan.
(Update Februari 2023)
Aantal dagen: 4
Prijs: p.p. gebaseerd op 2 personen
Plaats: Lissabon
Regio: Costa de Lisboa
Land: Portugal
Soort: Stedentrip
Vervoer: Eigen Vervoer
Verblijf in: hotel
Zwembad: Nee
Afstand tot centrum:
Afstand tot de zee:
Kind vriendelijk: Nee
Aan het plein Marques de Pombal, Restaurant met Portugese keuken, Uitgebreid vers ontbijt, Terras aanwezig, Comfortabele kamers, TAP-vlucht inclusief bagage, Betaalde prive-parkeergarage & inclusief transfers.
Aantal sterren: 4
Klant beoordelingen: 9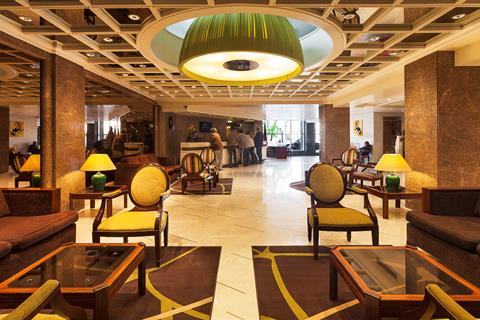 Klik hier om deze aanbieding van HF Fenix Lisboa te bekijken en boeken
4-daagse Stedentrip naar Costa de Lisboa bij HF Fenix Lisboa

TUI is een van de grootste vakantiemerken van Nederland met een enorm uitgebreid assortiment van voordelige vakanties. Ook vakanties naar Portugal. Vakantie is de mooiste tijd van het jaar. Wat is leuker dan onbekommerd genieten van andere culturen, een bezoek aan een boeiende stad of te relaxen op een prachtig strand met de zon op je huid? Kortom, te genieten van de dingen die het leven zo prettig maken. TUI doet er alles aan om reizigers een onvergetelijke vakantie te bezorgen. Een mooi land, Portugal. En wil je met eigen vervoer reizen of ga je liever vliegen naar Portugal Bij TUI boek je een goedkope vakantie vol zon.
Bekijk hier alle vakanties van TUI.nl of alle vakanties naar Lissabon – Costa de Lisboa
Bron: Tui.nl
Gaat u op Vakantie? Vergeet dan niet uw Reis Verzekering en deze Checklist meenemen in je koffer. U kunt hier ook uw Vlieg Tickets boeken en een Transfer of Auto Huur regelen.
Bekijk hier de andere Vakantie Landen in Europa.